SEIKO Manufacturing (Singapore) Pte. Ltd.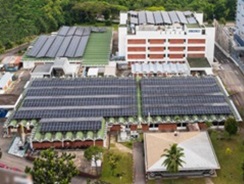 Our Company was established on 12 September 1973 and it was known as Singapore Time Pte Ltd. It was the first overseas subsidiary of the Seiko Instruments Inc., Japan. The Company started as a first fully integrated watch manufacturer which handled the complete manufacturing and assembling processes from the commercial raw material to the finished products.
In 1974, a total of 89 employees were trained in the then DainiSeikosha of Japan on the different types of skills for the mass production of watches. The Company went into production towards the end of 1974. On 19 March 1976, the Company was officially opened by the then Prime Minister of Singapore, Lee Kuan Yew.
In 1988, the Company was renamed Seiko Instruments Singapore Pte Ltd  – reflecting an expanded outlook and the new corporate identity of the Seiko Instruments Group.
Initially, ladies' watches, children's watches and stop watches were assembled. With the passage of time, the sophistication of the industry is emphasized. The parent company, Seiko Instruments Inc. (SII) Japan, has diversified interests in different products. Printers, Network Components and Scientific Instruments are examples of product diversification which joined the Seiko family.
Printer Manufacturing Division was first established in Singapore as Micro Device Singapore Pte Ltd (MDS) in 1997 as one of the overseas thermal printer manufacturers for the print system. MDS merged with SIS as one family in 2000.
In 1990, Instruments Technology (Johor) Sdn. Bhd (INTECH) in Larkin, Johor was set up as a subsidiary of SIS. With the increase in the transference of labour intensive processes from SIS, INTECH expanded with two more buildings at Tebrau, Johor in April 2001 and December 2003 respectively.
In 2006, a research and development base was established in Singapore to conduct joint research with national research institutes under Singapore's Agency for Science, Technology and Research (A*STAR).
On 1 April 2020, the Company was renamed SEIKO Manufacturing (Singapore) Pte Ltd and reports to Seiko Watch Corporation. This is in line with Seiko Holdings strategy to streamline business structure and to accelerate business growth. With this, the Company's focus is on watch business.
Summary of SMS Activities
Movement Manufacturing Division
Sub-Assemble and assemble of mechanical and quartz watch movements. Supporting activities involve Metal Machining (Turning, Milling, Drilling, Press, etc.), Surface Treatment (Heat Treatment, Polishing, Electro-plating, etc.), Injection Molding, Machine Maintenance, Die, Punch, Mould, Tools & Jigs Design and Fabrication.
Research & Development Division
Improve the research efficiency using global R&D resources and acquire new technology by technology fusion. Survey and plan for new themes with different perspectives from Japan. Acquire and develop global talents.
Company General Information
Total Sales Turnover
USD 71,589,272 (March 2021)
Manpower
498 as at August 2021
Board of Directors
Managing Director
Hisashi Ujino
Director
Chong Hwa Heng
Chan Keng Mun
Hiroshi Nakahara
Yasuto Nakamura
Taku Yoneyama
Kazuaki Oyamada